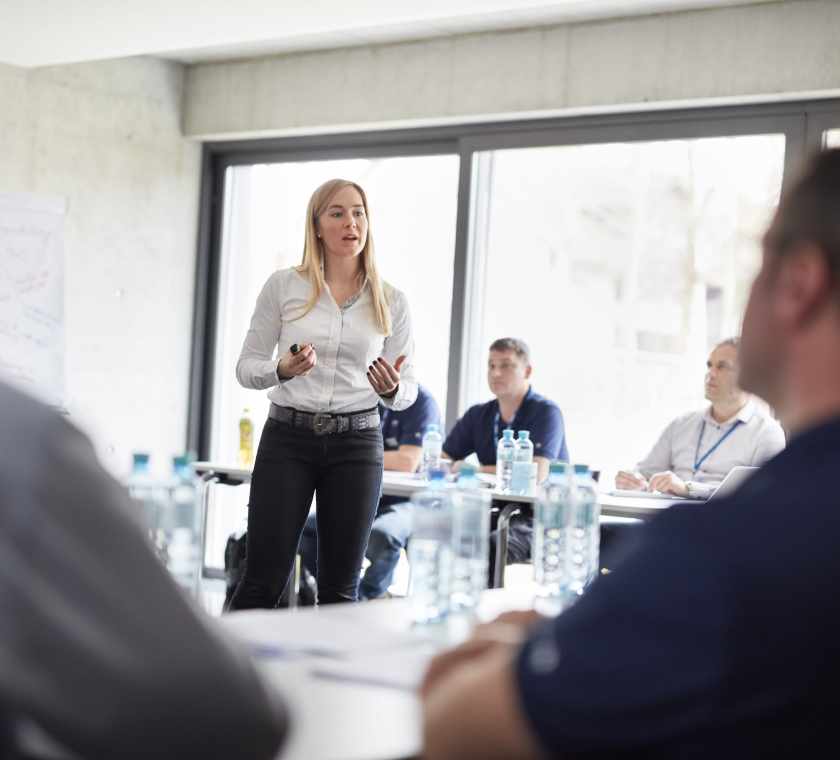 FAQs
Food waste accounts for eight per cent of the greenhouse gas emissions caused by humans. Around a third of the foods produced worldwide end up as waste. The average European discards around 100 kilogrammes of food each year. This is a remarkable level of waste, and not just from a financial perspective. Land, energy and a significant amount of water are required to produce this needlessly discarded food.
Plastic packaging prevents the wastage of food products and thus has a positive impact on climate change. It protects foods and enables the transportation and hygienic storage of foods and beverages. It also prolongs the shelf life of these products significantly. Particularly in areas of inadequate water quality, people are instructed to drink bottled water. PET bottles enable the secure, hygienic transportation of water in these countries.
Plastic is created from natural resources such as crude oil, natural gas, coal and cellulose. However, only around four per cent of the crude oil produced worldwide, and only certain chemical components, is used for the production of plastics.
ALPLA supports the development of bio-based plastics from renewable resources. Agricultural waste and wood, for example, are suitable for this. In addition to saving fossil resources, these plastics also offer very good properties (e.g. oxygen barrier function).
ALPLA also supports the idea of the circular economy with its own recycling plants and the processing of recycled materials into new packaging. Thanks to recycling, plastic becomes a valued substance for the industry. It prevents used packaging from ending up as waste in the environment or in landfills.
ALPLA does not use materials and substances such as PVC, plasticisers, bisphenol A (BPA) or heavy metals. These harmful substances are not used in drinks bottles, packaging for cosmetic or household products, or in closures.
Acetaldehyde is a naturally occurring substance found in the human body, in fruit and in alcoholic drinks. The substance has a pervasive, fruity-aromatic odour, which is why it is also used as a flavouring in the food industry.
PET bottles also contain acetaldehyde, however in concentrations far below the prescribed threshold. There are consequently no adverse health effects.
The carbon footprint of PET bottles is lower than that of some other types of drinks packaging. Indeed, disposable glass bottles generate ten times more greenhouse gases than reusable PET bottles. The reason for this is the high amount of energy required for the production of glass. Glass only begins to melt at temperatures of over 1,000°C.
Due to its low weight, PET is ideal for transportation: a one-litre PET bottle is around 90 per cent lighter than a 0.7-litre glass bottle. Up to 40 per cent fuel can be saved during transportation.
Microplastic refers to small pieces of plastic with a diameter of less than five millimetres. Parts smaller than one micrometre (μm) are referred to as nanoplastic.
A distinction is made between primary and secondary microplastic. The former refers to small particles that are deliberately produced and used, such as those used in cosmetics products (toothpaste, exfoliating products, etc.). The latter is produced from the breakdown of plastic products, particularly when these end up in nature. Sunlight, sea salt, bacteria and abrasion accelerate the breakdown process. Depending on the type of plastic, this has different effects in the environment, which are not yet entirely understood. The abrasion of car tyres on roads and the washing of plastic-based clothing (outdoor textiles) are also sources of secondary microplastic.
ALPLA does not use any primary microplastic in its production. However, secondary microplastic may be produced when packaging ends up in nature. To prevent this, ALPLA is committed to the recycling of post-consumer materials. We also raise awareness of this among our employees through special training and activities.
Plastic, and in particular PET, can be recycled very effectively. The material can be reprocessed many times without any significant loss in quality. In countries with appropriate collection systems, plastic packaging is largely collected and recycled: PET collection rates were 91.8 per cent in Germany and 73.2 per cent in Austria in 2016.
ALPLA is also committed to the recycling of HDPE, which will become more popular in the future.
As a company with its own recycling plants, we look very positively on initiatives to increase collection rates. We also call for more information to be provided to consumers in order to improve the quality of the materials collected. Plastic packaging is not useless waste once it has been used, but is a valuable raw material for industry.
ALPLA operates its own recycling plants: PET Recycling Team with two sites in Austria and Poland, and in the form of joint ventures in Mexico and Germany. The annual capacity of these facilities is around 60,000 tonnes of food-grade rPET. The technology has now become so sophisticated that the production of rPET at Wöllersdorf (Austria) generates only one tenth of the greenhouse gas emissions of virgin materials. Recycling therefore has enormous potential and can play a major role in achieving global climate targets.
We have over 25 years of experience in the processing of recyclable materials into new packaging solutions. We are happy to advise and support our customers to help them achieve their sustainability targets.
We see the European Commission's plastics strategy published in January 2018 as a positive sign. It establishes key framework conditions for the industry on the way towards a functioning circular economy. The expansion of recycling capability in Europe is particularly welcome. This gives recycling-friendly design a significant boost.
ALPLA provides financial support to non-profit organisations in the fight against the pollution of our oceans. 'The Ocean Cleanup' strives to collect rubbish from the oceans using special equipment. 'Waste Free Oceans' collects plastic waste from the oceans and coasts and recycles this into 'ocean plastic'.
With these sponsoring initiatives, we are committed in our facilities worldwide to preventing waste from ending up in the environment. On World Environment Day on 5 June every year, we organise clean-up activities, encourage our employees to separate and dispose of rubbish properly, and we take part in the 'Zero Pellet Loss' initiative.
Anstatt Verbote zu fordern, sollte man überlegen, wie man Innovationen fördert. Die Politik ist aufgerufen, klare Rahmenbedingungen zu schaffen, damit Unternehmen gezielt in die richtigen Technologien investieren und zur Verwirklichung einer funktionierenden Kreislaufwirtschaft beitragen können.
Das lässt sich nicht verallgemeinern. Eine Ökobilanz für Verpackungsmaterialien hat sogar gezeigt, dass Einwegflaschen mit einem hohen Anteil an Recyclingmaterial geringere Umweltauswirkungen haben als Mehrwegflaschen aus Glas. Ein wichtiger Faktor bei Mehrweggebinden ist die Transportdistanz. Glasflaschen sind viel schwerer als Kunststoffflaschen und verursachen beim Transport höhere Treibhausgasemissionen. Mehrwegflaschen werden aber für die Reinigung, zum Wiederbefüllen und schließlich zurück in den Handel häufig über weite Distanzen transportiert. Der Reinigungsprozess benötigt Chemikalien, die ebenfalls umweltschädlich sind.
Nein, ALPLA setzt bei der Herstellung von Kunststoffverpackungen keine gesundheitsgefährdenden Stoffe ein. Unsere Produktionsbetriebe halten die geltenden Vorschriften ein und werden regelmäßig überprüft. Insbesondere bei Verpackungen für Lebensmittel und Getränke sind die Vorschriften sehr streng.
Leider gibt es in vielen Ländern keine geeignete Infrastruktur, um gebrauchte Verpackungen und/oder Produkte zu sammeln, zu sortieren und wiederzuverwerten. So werden Abfälle achtlos in der Natur entsorgt und gelangen schließlich über Flüsse in die Weltmeere. Ein Großteil des Kunststoffs in den Weltmeeren kommt aus zehn Flüssen (acht in Asien, zwei in Afrika). Genau hier wollen wir bei ALPLA ansetzen und auch in diesen Regionen in Recyclinganlagen und Sammelsysteme investieren.
ALPLA engagiert sich aktiv und passiv. Auf der einen Seite unterstützen wir Organisationen, die sich dem Kampf gegen die Meeresverschmutzung verschrieben haben, finanziell. Auf der anderen Seite treiben wir derzeit den Ausbau unserer Recyclingaktivitäten weltweit massiv voran. Wir setzen firmeninterne Projekte wie "Zero Pellet Loss" um und tragen darüber hinaus zur Bewusstseinsbildung in der Gesellschaft bei. Gebrauchte Kunststoffe haben einen Wert und dürfen nicht als wertloser Abfall gelten. Voraussetzung dafür sind das Verständnis aufseiten der KonsumentInnen und die nötige Infrastruktur zum Sammeln und Sortieren von Wertstoffen.
Kunststoff, der nicht biologisch abbaubar ist, verrottet nicht. Er zersetzt sich in der Natur über die Jahre in einzelne Bestandteile. Wie lange das dauert, dazu gibt es Schätzungen. Eine Kunststofftüte schwimmt zehn bis 20 Jahre lang im Meer, ein Styroporbecher braucht 50 Jahre, um zu zerbröseln. Eine PET-Flasche zerfällt innerhalb von 450 Jahren, eine Angelschnur in 600 Jahren. Am Ende gilt immer: Verpackungen und andere Produkte aus Kunststoff müssen richtig entsorgt werden und dürfen nicht in die Umwelt gelangen.
Fälschlicherweise nehmen immer mehr Menschen an, dass der Verzicht auf Kunststoffverpackungen das Klima schützt. Oft ist aber das Gegenteil der Fall: Durch das Verbot von oder den Verzicht auf Kunststoff kommen andere Materialien zum Einsatz, die tatsächlich negativere Auswirkungen auf das Klima haben. Im Vergleich zu großen CO2-Verursachern wie zum Beispiel Transport oder Lebensmittelproduktion ist der Beitrag der Kunststoffverpackungen zum Klimawandel sehr gering. Die Einstellung mancher Konsumenten ist daher fast schon bizarr. Der Verzicht auf Plastiktüten wird als bedeutsamer Beitrag für ein klimaschonendes Leben eingestuft, gleichzeitig will man aber auf die jährliche Fernreise mit dem Flugzeug keinesfalls verzichten.
Laut Daten der Europäischen Union wurden im Jahr 2016 42 Prozent aller Kunststoffverpackungen recycelt, im Jahr 2005 waren es nur 24 Prozent. Gebrauchte Kunststoffe sind aus unserer Sicht ein hervorragender Wertstoff, sie sollten noch konsequenter sortiert und recycelt werden. ALPLA unterstützt dieses Ziel weltweit mit eigenen Recyclingwerken und Kooperationen.
Bei der Entwicklung von neuen Verpackungen wenden wir die Grundsätze von "Design for Recycling" an. Unsere Experten achten von Beginn des Lebenszyklus an darauf, dass die Kunststoffverpackungen möglichst gut für die Wiederverwertung geeignet sind. Problematisch sind häufig Verpackungen aus Verbundmaterialien oder mehrschichtigen Folien. Sie können nur mit großem Aufwand recycelt werden. Auch darauf haben wir bereits Antworten und eine beutelähnliche Nachfüllpackung aus HDPE entwickelt, die zu 100 Prozent recycelbar ist.
Unser Ziel ist es, dass bis 2025 alle von uns hergestellten Verpackungen zu 100 Prozent recycelbar sind. Die von uns eingesetzten Kunststoffarten – überwiegend PET (54 Prozent)* und HDPE (39 Prozent)*, wesentlich kleinere Mengen PP und LDPE – sind grundsätzlich sehr gut recycelbar. Verbesserungspotenzial gibt es in manchen Bereichen dennoch: zum Beispiel wenn Flasche und Verschluss aus verschiedenen Materialien bestehen oder Additive beigesetzt werden, die die Qualität der Rezyklate beeinträchtigen können. Mit konsequentem "Design for Recycling" werden wir in den kommenden Jahren unsere Verpackungslösungen in dieser Hinsicht optimieren.
*Zahlen aus dem Jahr 2020, Anteil am gesamten Materialverbrauch.
Recycling schließt den Kreislauf und verhindert, dass gebrauchte Kunststoffverpackungen in die Umwelt gelangen. Aus den Rezyklaten können wieder neue Verpackungen hergestellt werden, sowohl fossile als auch nachwachsende Ressourcen als Basismaterial für Kunststoffe werden dadurch geschont. Zudem leistet Recycling einen nennenswerten Beitrag zum Klimaschutz. Recycelte Kunststoffe verursachen bis zu 90 Prozent weniger Treibhausgasemissionen als Neuware.
Kunststoffabfälle sollten nur dann verbrannt werden, wenn weder mechanisches noch chemisches Recycling ökologisch und ökonomisch sinnvoll ist. Die thermische Verwertung der Abfälle ist in diesem Fall besser als die Deponierung, dabei wird zumindest die kalorische Energie der Kunststoffe in Form von Wärme genutzt. Die Deponierung sollte völlig vermieden werden. Durch den weltweiten Ausbau von Recyclinganlagen und die zunehmende Verbesserung von Sortier- und Recyclingtechnologien steigen die Recyclingquoten aber kontinuierlich an.
Für die Herstellung von Verpackungen setzen wir nur dafür zugelassene Materialien ein. Besonders für Lebensmittel- und Getränkeverpackungen gelten sehr strenge Vorschriften, das gilt natürlich auch für Recyclingmaterialien. ALPLA und externe Partner kontrollieren regelmäßig die Qualität.
Verpackungen mit einem hohen Anteil an recycelten Kunststoffen haben niedrigere Umweltauswirkungen, das belegen wissenschaftliche Untersuchungen. Der Grund: Die Herstellung der Recyclingmaterialien verursacht weniger Treibhausgasemissionen als die Herstellung von Neuware. Das wirkt sich sehr positiv auf die Ökobilanz von Verpackungen mit hohem Recyclinganteil aus.
Es gibt bereits Verpackungen, zum Beispiel für Mineralwasser oder auch Reinigungsmittel, die zu 100 Prozent aus Recyclingkunststoffen bestehen. Allerdings sind die Recyclingquoten bislang noch nicht so hoch, dass damit der gesamte Materialbedarf für die Herstellung von Verpackungen gedeckt werden kann. Der Anteil von Recyclingmaterial in Verpackungen wird – nicht zuletzt aufgrund entsprechender Gesetze – weiter steigen. Dennoch wird auch in Zukunft ein gewisser Anteil an Neuware notwendig sein.
Primäres Mikroplastik wird industriell hergestellt und in verschiedensten Produkten eingesetzt, zum Beispiel für Kosmetik- oder Reinigungsprodukte. Sekundäres Mikroplastik entsteht, wenn Kunststoffe in die Umwelt gelangen und sich dort zersetzen, oder durch das Waschen von Kleidung aus Kunstfasern. Eine weitere sehr bedeutsame Quelle für Mikroplastik in der Umwelt ist der Abrieb von Autoreifen.
Unseren Informationen zufolge gibt es derzeit dafür keine eindeutigen Hinsichtlich unserer Produkte heißt das: gebrauchte Verpackungen sammeln und wiederverwerten. Auf keinen Fall sollten sie in die Umwelt gelangen und sich dort zu sekundärem Mikroplastik zersetzen.
Terminology
Last updated: November 2018
Products that have fulfilled their intended purpose and can no longer be used by the end consumer.
The processing and reprocessing of plastic waste for its original purpose or for other applications. Energetic utilisation is excluded from this.
The processing of plastic waste into secondary raw materials or products without significantly modifying the chemical structure of the material.
In the case of chemical recycling, the structure of the long chain molecules of the plastic is broken down. After cleaning and processing, the molecular fragments can be reused for plastics or other compounds. There are various procedures.
The controlled microbiological treatment of biodegradable plastics under aerobic or anaerobic conditions (with or without oxygen).
The processing of plastic waste for its original purpose or for other applications, including energetic utilisation.
Refilling or reuse of packaging for its original purpose, with or without the aid of 'auxiliary products' such as special refill packages.
Packaging or packaging components specially designed to be reused or rotated within a reuse system.
Packaging solutions or packaging components can be considered recyclable if they are suitable, in practice and in large quantities, for the collection and sorting of post-consumer material and for recycling processes.
Recyclate (regranulate) is created when used plastics (also known as post-consumer material) are recycled. ALPLA supports the bottle-to-bottle principle, which strives to create new, fully functional packaging solutions from used packaging or bottles. In the case of downcycling, on the other hand, the quality of the end product is lower; one example of this is the processing of recycled materials into textiles or strapping.
Biodegradable material can be decomposed under aerobic or anaerobic conditions (with or without oxygen), releasing water, naturally occurring gases such as CO2 and methane, as well as biomass. Biological (especially enzymatic) activity modifies the chemical structure of almost every type of material. It is therefore important to specify the precise environmental conditions under which decomposition is to take place. An important parameter here is the time period, which varies depending on the material. Biodegradable plastics do not necessarily have to be made of renewable raw materials (see 'bio-based/plant-based plastics'); petroleum-based materials can also be biodegradable.
Compostable plastic decomposes through the activity of bacteria or other living organisms in water, naturally occurring gases such as CO2 and methane, as well as biomass. This must be carried out in a similar way to other compostable materials, without leaving visible or toxic residues. For a material to be regarded as compostable, it must meet certain guidelines, for which there are different standards in place depending on the country and region. Compostable plastics should be disposed of in organic waste bins and not in garden compost. See also 'home-compostable plastic'.
Home-compostable plastic decomposes in garden compost through the activity of bacteria or other living organisms in water, CO2 and biomass. These specially certified materials decompose within a set period of time and leave no visible or toxic residues in the garden compost.
ALPLA currently processes the Golden Compound green material from the German material manufacturer Golden Compound into coffee capsules. This material is TÜV-certified according to 'ok compost home' and 'ok biodegradable soil' (TÜV Austria Belgium NV no. S0464 OK Compost Home). It can be disposed of in garden compost and decomposes there without leaving any residue. Humus is formed again during composting from the ground sunflower seed shells contained in the material.
The decomposition process of organic material through microbial digestion to produce compost. For this process, the organic waste needs to have the right temperature as well as a certain amount of water and oxygen. Compost can also be used as soil fertiliser.
Bio-based or plant-based plastics are made entirely or partly of renewable raw materials. Bio-based polymers can be obtained from sugar, cellulose or starch, for example. For ALPLA, it is important that the source materials are compatible with the food industry. Ideally, waste products are used. The use of renewable raw materials spares fossil resources and reduces CO2 emissions. Bio-based is not to be confused with biodegradable. See also 'biodegradable plastic' and 'compostable plastic'.